Nathan's Hot Dog Eating Contest Tradition Goes On!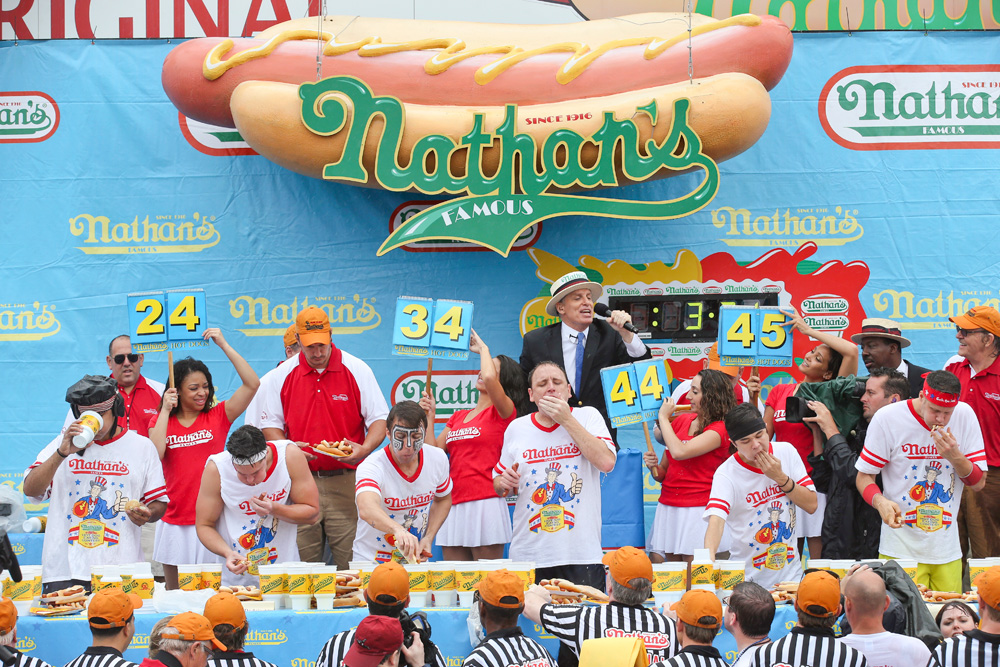 The Super Bowl of the competitive eating circuit will continue! As a result, we are counting down the hours until the annual Independence Day Nathan's Hot Dog eating contest. The event takes place LIVE tomorrow at 12:00 PM EST on ESPN. Usually this contest is held in Coney Island – Brooklyn, NY on the corner of Surf and Stillwell. However, due to health restrictions resulting from COVID-19, the location of the event has been made private.
What we do know right now is that Joey Chestnut is a heavy favorite to repeat as the Hot Dog Eating Champion of the World. Joey is going to do his best to hold off five other challengers and become the men's champion for a fourth consecutive year. He will also attempt to break his 2018 world record of 74 hot dogs and buns (HDB).
From a women's perspective, Miki Sudo will try to win her seventh career Mustard Yellow Belt.
This time, instead of being on a big stage outdoors, cheered on by Major League Eating's most passionate fans, Chestnut and Sudo will try to dominate in an indoor arena with no spectators over 10 relenltess minutes. Mike Golic Jr. will call the action for ESPN, with MLE co-founder Richard Shea providing the competitive eating color analysis.
Daily Fantasy Sports For The Hot Dog Eating Contest
The team at StatementGames continues to offer fans to play alternative forms of Fantasy Sports. FREE to Play "Competitive Eating" games are available! It is very easy to play the Nathan's Hot Dog Eating Contest on StatementGames. Have fun this 4th of July by picking 10 statements and ranking them in order of confidence. You will earn points for picks that become correct and the individual with the most points from correct picks WINS. However, should you fail to get at least 5 of your 10 picks right – you are NOT ALLOWED to have a single HOT DOG this 4th of July Weekend 🙂
Also, competitive eating fans that are creating private tournaments with 8 or more competitors get to take advantage of a special promotion. They are receiving 1000 StatementGames coins. StatementGames coins are used to claim CASH REWARDS!
Nathan's Hot Dog Competitive Eating Contest – Early Line Action On StatementGames.
The StatementGames platform will continue accept entries into their fantasy sports – competitive eating contest up until 11:55 AM EST. We have already collected thousands of data points. 90% of players have inserted the below picks into their list of Statements:
Joey Chestnut UNDER 72.5 Hot Dogs Eaten
Miki Sudo WINS Female 2020 Nathan's Hot Dog Eating Contest By OVER 6.5 Hot Dogs
Men's Winner OVER 73.5 Hot Dogs Eaten
Geoffrey Esper VS Darron Breeden – Geoffrey Esper Eats More
Miki Sudo VS Nick Wehry – Miki Sudo Eats More