NHL qualifying series' New York Islanders Vs Florida Panthers. The winner will advance to the first round of the 2020 NHL Playoffs.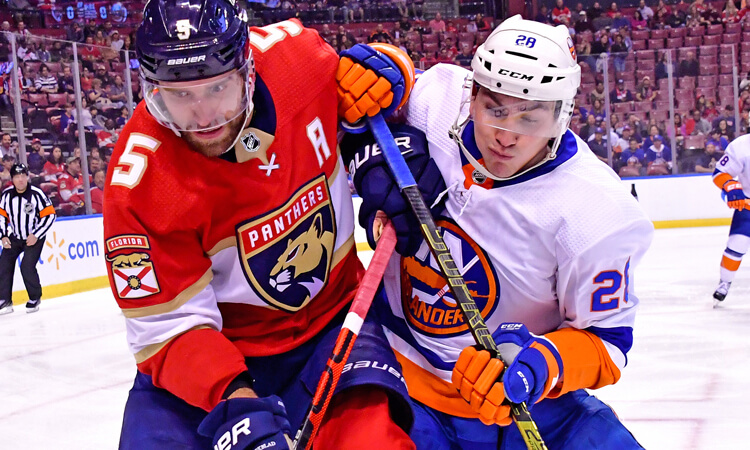 NHL New York Islanders #7 Vs Florida Pathers #10 Overview
Welcome back to the NHL 2020 Stanley Cup Playoffs! This match up should be a very good matchup between the New York Islanders and Florida Panthers. Game 1 is set for Saturday at 4:00 PM on NBCSN. This will be the second time in four years these teams will be facing one another during the NHL Playoffs. As for the regular season, New York had won all three games against Florida. However, Game 1 of this series will be the first time the Islanders and Panthers have played each other since Dec. 12, 2019.
New York Islanders Key Factors
The New York Islanders made a lot of noise early in the NHL season. They had gone on an incredible 17 game point streak. The complete opposite could be said leading up to the stoppage. The Islanders did not win a game in their final 7 before the stoppage. The Isles were littered with injuries throughout February and March. Key players such as Adam Pelich, Casey Cizikas, and Cal Clutterbuck missed action. The stoppage has benefited the Islanders as it gave key players an opportunity to get healthy! If the Isles are to emerge victorious, they will need contributions from Pelich, Casey & Clutterbuck as well as their top scorer, Matthew Barzal.
Florida Panthers Key Factors
The Florida Panthers added some key new faces this summer, including head coach Joel Quenville and acquiring the best goalie on the free agent market by signing Sergei Bobrovsky to a 7 year contract. The Panthers had a very up and down. Bobrovsky was very inconsistent and it heavily impacted where the Panthers placed in the standings. If the Panthers are to take this best of five series, they will need Bobrovsky to step up and make key saves and have the ability to steal a game or two.
New York Islanders Vs Florida Panthers Series Prediction
This is a hard series to predict. With that said, give me the Islanders in 4! The team is healthy and I expect them to regain their defensive form. A form that once had them ranked in the top 5 of the NHL.
Also Available In the Apple & Google Play Store