San Francisco Giants 2020 Season Preview
When Gabe Kapler sits down to fill out his lineup cards this season, he is going to have a ton of options.
The San Francisco Giants president of baseball operations Farhan Zaidi has spent the last two years adding more versatile players who can switch positions easily. The team still has a bunch of holdovers from the previous executive, but nearly every player acquired since Zaidi's hiring in November 2018 has multiple gloves in his locker.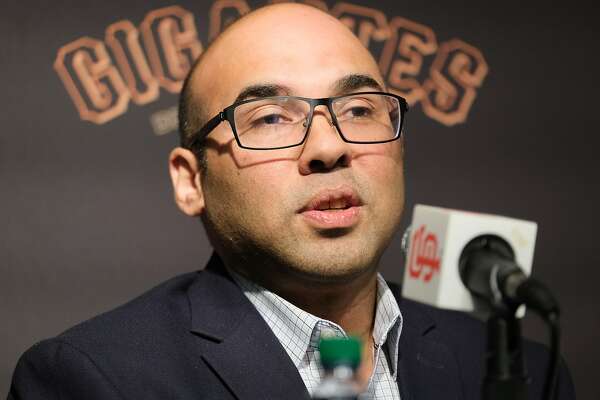 With MLB expanding rosters to 30 players for the first two weeks of the 2020 regular season, the Giants also expect to carry at least 13 position players and possibly as many as 15.
The combination of expanded rosters and a group of players with added positional flexibility makes predicting Giants lineups a significant challenge, but based on how Kapler drew up spring training lineups and what's taken place in summer intrasquad games, we're starting to understand how the Giants might structure their squad against right and left-handed starters.
The lineups will change on a daily basis, but with Opening Day just a few days out, here's a look at how the Giants might look on opening day.
Potential San Francisco Giants Opening Day Lineup
1. Mauricio Dubón, CF
2. Mike Yastrzemski, RF
3. Wilmer Flores, 1B
4. Evan Longoria, 3B
5. Hunter Pence, LF
6. Darin Ruf, DH
7. Donovan Solano, 2B
8. Brandon Crawford, SS
9. Tyler Heineman, C
The bench: Alex Dickerson (LF), Pablo Sandoval (1B/3B), Austin Slater (OF/IF), Brandon Belt (1B), Jaylin Davis (OF), Rob Brantly OR Chadwick Tromp (C)
Starting pitcher: Johnny Cueto
The bullpen: Tony Watson (L), Jerry Blevins (L), Reyes Moronta (R), Dereck Rodríguez (R), Andrew Suarez (L), Sam Coonrod (R), Jandel Gustave (R), Trevor Gott (R), Tyler Rogers (R) & Wandy Peralta (L)
San Francisco Giants UNDER 25.5 games
We will be following Sam Pasco Media / KXSF Sports throughout the MLB season as he does a great job covering the San Francisco Giants. In his last blog post, he reported how the Sacramento River Cats have joined the Giants taxi squad. Since Joey Bart is active on the Sacramento roster, that is a good sign that he will not be included in the big club's Opening Day Roster.
Just too many games Vs LA Dodgers this year so we will be playing the UNDER 25.5.
StatementGames gives San Francisco Giants and Major League Baseball fans a chance to play Fantasy Baseball days before the season actually starts. We invite all readers to try our MLB OVER / UNDER wins total tournament!
To play this alternative form of Fantasy Baseball – log into www.statementgames.com and join the 2020 MLB OVER / UNDER WINS Total Tournament.
Review a list of all MLB teams and their OVER / UNDER WIN Total Odds
Select 10 OVER / UNDER WIN Total Props
Rank your picks in order of confidence from 10 Through 1
Play in leagues of 8-12 MLB fans
At the conclusion of 2020 MLB Season – the individual with the most points from correct picks WINS.
FREE 2 Play – Play for CREDITS that can be exchanged for CASH REWARDS.
Also Available In the Apple & Google Play Store