An MLB Game Day Preview – Chicago Cubs VS. St. Louis Cardinals – Busch Stadium, St. Louis, MO. (05.23.2021)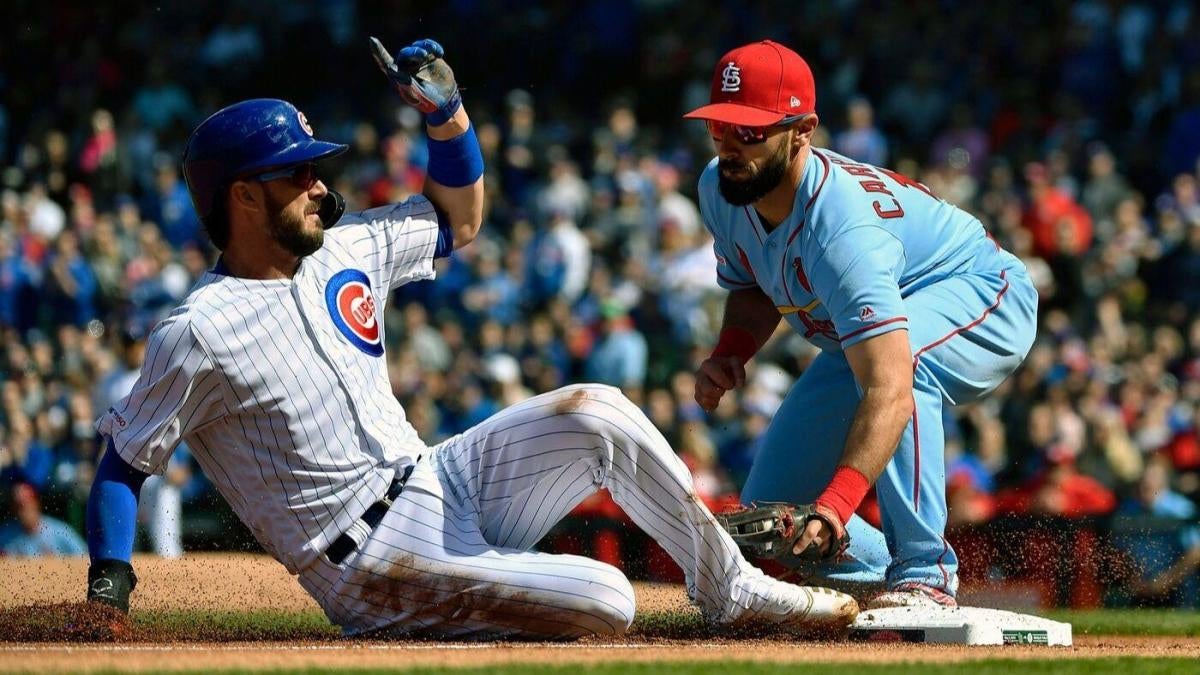 When: May 23, 2021
Where: Busch Stadium – St. Louis, MO
TV: Sunday – 7:08 PM EST | ESPN
Pitching Match-Ups
5/23 – Zach Davies (R) vs. Adam Wainwright (R)
O/U: 8.5
STL -135
Chicago Cubs
Overall: 23-22
Road: 7-13
RL: 25-20
St. Louis Cardinals
Overall: 26-19
Home: 15-9
RL: 28-17
Chicago Cubs vs. St. Louis Cardinals Game Day Preview
On Sunday Night Baseball, the Cubs will face the Cardinals for the third game of a three-game series. On Friday night, the two teams played for the first time this season. Chicago routed the Cardinals 12-3 on Friday night, but on Saturday, the Cubs won 2-1. This will be an exciting battle of the Chicago Cubs vs St. Louis Cardinals on primetime, national television. The two teams will not meet again until June 11.
Cardinals Pitching
The St. Louis Cardinals will try to overcome key injuries. On Saturday, the Cardinals played without shortstop Paul DeJong (broken rib), outfielder Tyler O'Neill (broken finger), and outfielder Dylan Carlson (back tightness). Cardinals manager Mike Shildt said, "Listen, nobody is going to feel sorry for you in this game. You are going to play short occasionally. You are going to have pieces missing occasionally. You have a piece missing in Dylan, you already have some pieces missing with DeJong and O'Neill." Additionally, the Cardinals went to the bullpen early on Saturday leaving it weak on Sunday.
Adam Wainwright (RHP, 2-4, 4.63 ERA) will take the mound for the Cardinals, trying to overcome the disaster that was his last start. In his last start, he allowed six runs on eight hits, including three home runs. Additionally, he walked three batters. That debacle all took place in just four innings. This season, he has allowed five or more runs three times in eight starts.
In their careers against Wainwright, Javier Baez is 5-for-29 with nine strikeouts, David Bote is 2-for-10, and Willson Contreras is 2-for-19 with two homers and four RBIs.
Cubs Pitching
Zach Davies (RHP, 2-2, 5.58 ERA) will start for the Cubs. His ERA is 2.11 in his past four starts. "The first month is tough at times," Davies said. "Where some things don't go your way and you're frustrated, and things kind of snowball. But it's a long season, especially this year with going back to a full season."
Davies has faced the Cardinals 10 times in his career. Against him, Matt Carpenter is (12-for-25 with four doubles, three home runs, and four RBIs; Nolan Arenado is 5-for-16 with two doubles, a homer, and two RBI's; Yadier Molina is 7-for-21 with a double and an RBI; Paul Goldschmidt is 4-for-10 with two RBIs; and Harrison Bader is 3-for-3 with a home run.
Chicago Cubs vs. St. Louis Cardinals Trends & Fantasy Baseball Picks
Trends
Cubs are 8-2 in their last 10 games vs. a starter with a WHIP greater than 1.30.
Under is 4-0 in Cubs last 4 games with the total set at 11.0 or higher.
Cardinals are 0-8 in their last 8 games with the total set at 9.0-10.5.
StatementGames Fantasy Baseball Picks
Chicago Cubs OVER 3.5 Runs
Kris Bryant + Anthony Rizzo OVER 0.5 EXTRA BASE HITS
STL Starting Pitcher OVER 2.5 Earned Runs
Also Available In the Apple & Google Play Store