April 25, 2017
By Danny Radical
Reviewing The New York Islanders 2017-18 Season
What if I told you last September that the New York Islanders were a bubble playoff team? You'd have said "Dude, 95 points? One win away from playoffs? You're crazy." And you would have every reason to feel that way.
I have a nemesis- I'll code name him Kool Aid Rob. And he probably hates me. But he and I go back and forth, and truth be told I respect his passion and vigor in promoting the Islanders. He's a good, Garth Snowblowing kind of fan. Even wrote about him once.
Last fall we were going back and forth with our usual banter and he asked me where I thought the Islanders would end up, after coach Doug Weight's amazing run as a head coach. I told him Weight sucked, they had too many blow out losses in 2016-17, and that at best the Islanders were a playoff bubble team.
Was It Wrong To Call The New York Islanders A Bubble Team?
He called me an idiot. Stupid. Moronic. That's actually a step up from him calling me the worst person ever, a title I somehow lost to @IslesRealist. But it didn't hurt.
And in October when the Islanders were playing somewhat ok, KoolAid Rob would remind me about my prediction. And I would reply "they give up too many shots." And he would call me a moron.
And in November, when the Isles were scoring 43 goals a game, KoolAidRob would remind me that the Islanders were dominating the goals for category in the entire league. And I said to him "They let up too many shots." And he insulted me yet again, told me my kids should hate me, all the stuff you'd expect from a professional #IslesKoolAid chugger.
Then December came along. The single best month of Josh Baileys career. And something happened. The rest of the NHL recognized something I said from day 1. The Islanders do not play defense. And this thing started happening- it's called losing.
The New York Islanders Start LOOSING
It got worse in January. More worse (is that a phrase?) in February. Horrible in March.
I predicted this Islanders squad to be a bubble team. They didn't even manage that. And that's with a rookie of the year on the roster, and sporting two point per game centers.
You have to go back almost ten years to find a team with two point per game players than did not make the playoffs. And you know what? Both the head coach and GM were fired for wasting such a year. Not here, yo.
New York Islanders Ownership
There may be a reason that the Islanders owners were so hands off and useless. Maybe the whole putting a plan together for yet another arena in the 5 boroughs and 2 counties was so enveloping that they had no chance to assess their own product. Maybe Belmont made the owners so single minded about a land grab that they stopped checking for quality control. Maybe they were so busy making food at a practice rink that they forgot who plays in that rink.
All that is understandable. But none of that is acceptable. If you are on the hook for a billion dollars why would you accept losing payoff revenue streams? It's silly to think that these very rich men want to lose money, unless the Islanders are a tax write off against their other businesses.
I'm in the camp of believing that any Islanders owner is looking for the tax write off and the land grab. Spano, Wang, Gang of four, Maldecky. They all want a loser to balance a winner. And land. Expensive Nassau county land. And the fans? Pfft.
More important than management, roster, winning…
John Ledecky Comments
After all, if you saw the comments John Ledecky made at the end of year press conference, which was covered by 3 people because that's how important teams draw media, he said nothing. To clarify, the next day he made another statement that not only said nothing, but reminded Islanders fans that they should be happy that in 4 years there will be a new arena, and thanked the Governor for such.
He also mentioned the frustration that the Islander fan has felt in that void that should be a fifth Stanley Cup, and how the team has failed to reach such.
Except one thing. He retained the guy that for the last TWELVE years has kept the team from winning a Stanley Cup, for 8 of those years kept the team out of the playoffs, and for three of those years extended the season by about ten days.
A guy that has had SIX top 5 picks in the NHL draft, and 1 player to show for it. A guy that has had eleven first round picks in the draft, and can't make the playoffs. A guy who has said that when he took over the Islanders they were in full rebuild mode. That full rebuild mode team had 2 less points at the end of the season than this team did.
And also, Snow took over a team that made the playoffs in three of the 4 years before he took over, and also made it in his first year. Just saying.
First, let us take a look at the good.
Now, this Islanders season was not completely discouraging. There were some highlights. For instance, the Islanders finished the year with the 7th most productive offense in the NHL. That fell monthly from a high of 2nd best in December, but still, 7th best is an achievement in a 31 team league.
Among the forwards, the top six really produced. John Tavares put up more than a point a game, and ended the season with another overtime goal. Anders Lee became the first Islander since Jason Bake to net 40 goals. Matthew Barzal was a beast who brought his career average to 1 point per game while netting 20 goals. Anthony Beauvillier went from bottom 6 center to 20 goal wing in a matter of months, showing how Weight had no clue how to use him until two roommates informed the coach that they should play together.
Newcomer Jordan Eberle had a very typical Jordan Eberle season- 25 goals, 34 assists. No Barzal bump there. And Josh Bailey had one of the least even seasons of any Islander- 50 points by New Years Eve, followed by 5 points in January and 21 total in the second half. If anyone thinks that the extension he got is worth it, I have a bridge in Brooklyn that leads right to the Barclays to sell you. Without Tavares he's bland. With him, he's slightly less. And he's the first winger since Snow acquisition PM Bouchard to not score 20 riding the coattails of JT91.
While Bailey had a career high in points, and was an all star, he and I are watching the playoffs from the same vantage point- our couches.
The most pleasant surprise of the season is undoubtedly Matthew Barzal. On three occasions he put up 5 points in a game- a feat not achieved in just about a century for a rookie. He potted 20 goals, something 10th year forward Josh Bailey- the ballyhooed playmaking center riding coattails at wing- has yet to achieve in his career. He skated with passion and flair, made many deft moves, drew a ton of penalties, and led the team in points over star player John Tavares.
And to think- without preseason injuries to Alan Quine and Shane Prince, we'd have no idea what the eventual Calder winner was capable of.
Another pleasant surprise this season was the emergence of Ryan Pulock. Anyone watching this season saw his game get better and better as the season went along. Pulock credits fellow defenseman Thomas Hickey for his development. Not the coaching staff, but Thomas Hickey. That speaks volumes.
True, Hickey learned how to play from Lubomir Visnovsky, a gifted offensive defenseman, but that we're teaching defensive styling's the same way African griots tell the history of Uganda is a waving red flag regarding the lack of ability of the coaching staff.
Pulock's use is surrounded in mystery. He had a playoff goal versus the Florida Panthers. That feels like 50 years ago, but it's merely three. He came up with the team last year and seemed ok, until he was injured. After he healed, the Isles left him to play in Bridgeport, which always sucks. Not the city. The situation. The team. And the coach.
The mystery is in based on one word- why. Why didn't he return to NHL action? The excuse passed around last season was that the Islanders didn't want to break in two novices at the same time, so Adam Pelech had preference. Why? He looks like the Count from Sesame Street. Weight had a preference for Denis Seidenberg. Old ass Denis Seidenberg. Why? Why play a guy clearly on the way out before the guy with a future? Were they expecting him to be a landlord that quickly?
With the Snow/Weight logic on playing multiple rookie defenseman in the same season, what happened this year? The Islanders had to season Pulock. And 5th year rookie Scott Mayfield. And when Calvin DeHaan went down with an injury? Rookie Sebastian Aho. So the Islanders like odd numbers when it comes to breaking in defensemen.
That said, the emergence of Pulock makes it look like Snow has been right on 4 of his 80 draft picks. That's an .050 batting average if you're playing baseball. That doesn't win, either.
OK, that's the good. Let's take a look at the bad. And boy oh boy there is so, so much.
The defense. Bet you thought I'd go to goaltending first? No, no I wasn't.
This team had a no backchecking forwards philosophy to generate the 80's style offense that Weight wanted. That 6 other teams generated a better offense without forsaking the defensive end was lost upon the underwhelming coach. This left the defense out to dry.
That same coach implemented a no shot blocking policy from his defense because it screened the goalies. No, I'm not making that up.
The defense lacked grit. Opposing teams walked around the ice unmolested. Everyone should be mad at the Washington Capitals for speaking about such publicly to the media, because it finally caused the Islanders to…play high school defense.
How bad was the defense? Nick Leddy put up 42 points…and was a minus 42. Minus 42!
All of this bad defense, leading the league in shots against and all, led to an ancillary issue- goaltending. Thomas Greiss had a horrifically low save percentage. You MAY be able to survive that if you only let up 20 shots a night. But 40? The opponents are going to put up 5 spots. And they did, and they did.
It's like I never left!
Jaroslav Halak was also awful, albeit less so, and even performed admirably in some of those 42 shot a night exhibitions. Halak's problem was letting in soft goals at the most inopportune time.
I won't bother trying to justify either of these guys by using advanced stats. I have seen people say "what you adjust for 5 v 5 high danger chances, Halak becomes the 11th best goalie in the NHL." Well, unless the game is played only as 5 on 5 high danger shots, who gives a shit?
Yes, I recognize that both goaltenders were underwhelming. But if the defense and forwards could suppress some shots, there's a good chance the Islanders would gotten…maybe 90 points?
And that leads to the worst of the season: the coaching. As usual, the Islanders were the training wheels of the NHL when it comes to coaching. Scott Gomez? The funniest part of the Gomez hiring is that he took a personal interest in mentoring Joshua Ho Sang. That went well.
Doug Weight? I totally understand the people who will say "How could you not hire him after the job he did last season?" It's an understandable argument, and I don't entirely disagree. What I disagree with- both then and now- is that there was ZERO COACHING SEARCH.
Why does that matter? Well, there was an available coach that went on to get hired in Las Vegas, and we can all see how that worked out. Ken Hitchcock was available at season's end. Claude Julien was available in season. Buffalo took a flyer on an assistant that went to a Cup final a few weeks before. Weight? His prior experience was doing a horrible job at running the power play for years, and then taking over a team at .500 and on the rebound towards a path of missing the playoffs.
But Snow didn't bother with any search. Why? Because he knew best. And god knows what Garth saw in Doug, as Snow's clearly not a weight watcher.
And that transition brings us to the ugliest part of the season: Garth Snow.
As always, Garth Snow didn't fail to disappoint. Technically that disappointment started in 2013-2014. After taking over a team that appeared in 3 of 4 playoffs, Snows first team made the playoffs. Then they took a 5 years vacation from returning to such under his stewardship. It's ok though- it was a rebuild. And Snow was trying. By year 5 he was on his third head coach.
The Islanders finally returned to the playoffs in 2012-13 and faced the Pittsburgh Penguins. The Penguins were a talented team, and the Islanders pushed them to a game 6 before bowing out of the playoffs. If the Islanders had some more stable goaltending, more reasonable coaching, and if Travis Hamonic wasn't wholly terrible, the Islanders probably beat the Penguins that year.
So coming off of the elation of a return to the playoffs, Snow looked at his roster…and made no significant changes for an entire offseason. This unfortunately is a pattern of behavior from Garth.
The Islanders predictably missed the playoffs a season later when John Tavares went down with an injury sustained in the Olympics. That Snow did nothing to improve that roster, that he held on to the same coach despite having a revolving door of coaching to that point? This was when Snow proved that he was in over his head and needed to be replaced. He was disappointing.
When a new owner opening up the purse strings, success returned to the franchise. Some fans say that Snow was restrained in his spending which was why the team lost. yet Snow is repeatedly on the record as saying he was never limited in spending, so I'll choose to believe that the fans were right and Snow was lying.
But that success was short lived. Look at the deadline moved Snow made to shore up a playoff team. Tyler Kennedy. I think that's about it over two seasons. And it gets worse.
After the Islanders progress to the second round of the playoffs in 2015-16, Snow lets 3 key players leave the team as unrestricted free agents. He could have traded them for assets in season and still likely made the playoffs. He could have made contract offers to all three. Instead he chose to make an offer to only one, who rejected it for less money from a bad team. #TireFirelanders
How did Snow rebound from such? He signed oft traded Andrew Ladd through the year 2023 and have him a no trade clause and $5.5 million a year. Since that contract was signed two years ago, Ladd is closing in on 70 points. Not 70 points per year. 70 points.
Fast forward to this team. The first moves Snow made to prepare for this season was to trade away the first two rounds of the draft and a prospect so that no one would take his valued players. He then traded one of those valued players for 3 draft picks to replace what he just lost. He did trade for Jordan Eberle, but he traded a guy who Snow drafted that was supposed to score like Eberle. Then Snow took August off.
When the season started, how did the GM help navigate this teams in season issues? He demoted forward Josh Ho Sang for making the third line marginally effective, claiming defensive inefficiency. When Nikolai Kulemin went down with a season ending injury, he made no move to replace his defensive game. When Calvin DeHaan went down with a season ending injury, he made no move to replace DeHaan. When Johnny Boychuk went down with another long term injury, Snow made no move to replace him.
Understand that Brandon Davidson was on waivers in December when all of these injuries happened to the defense. Snow waited until the trade deadline to make a move for him, wasting a future asset for the team instead of taking the guy for free.
Snow offered Josh Bailey, having an all star season passing to someone else who then passed to John Tavares or Anders Lee, a long term contact- his usual move- at $5 million dollars per. Bailey was a projected unrestricted free agent. I'm not sure what other GM he was racing against to get an offer to Bailey, but I'm 100% sure it was NOBODY, because that's a violation of the collective bargaining agreement. As usual, Snow was bidding against himself.
Snow also moved a guy he signed- underperforming Jason Chimera- at the deadline to Anaheim for a guy that was actually worse than Jason Chimera. Wagner's two year $5 million deal will happen any day now.
Garth Snow has turned the trade deadline into the trade dreadline.
And what he has done for the future of the franchise is scarier still. Let me explain.
The Islanders ended the season with less than a million dollars under the salary cap. They have a lot coming off the cap, however. Entering this offseason, the Islanders have $46 million of contracts against a projected $80 million cap.
That's $34 million in cap space. So what are their needs, going forward?
The main need is John Tavares. I don't believe that Tavares has the same feelings. However, a player of John Tavares' caliber will be looking at a conservatively priced $10m a year. So there's $24 million in space. Plenty of money.
Next up- a quality goaltender. The market price for such is about $6 million dollars. The ideal move for the Islanders is to trade Greiss to the Washington Capitals, as they seem ready to move past the Braden Holtby era. That would be bringing in Holtby for a net cap gain of $3 million. Then you find a backup for a million or so.
I'm not sure if the Caps want a goalie in return for Holtby. If not, I'd offer Josh Bailey- after all, his deal is a steal according to #IslesKoolAid! That's be a $1m loss, and a gain in goal. But lets face it- no one is taking Bailey, so figure $6m for a starting goalie.
That brings the team down to $18m in cap space.
Up next- the exodus of Calvin DeHaan, Thomas Hickey, and Denis Seidenberg. While not a power packed group, they are 3 established 5th and 6th NHL defensemen. To replace them with two NHL caliber defensemen free agents, you're sitting around $8 million dollars. If you can do one defenseman and find another from within the Isles system, you can get away at $5 million. That would mean returning the same defense the team had this past season, however, as you're replacing 3 veterans with a rookie and a newcomer. Two completely new bodies may be a better call- they've already been coached by better.
That's $9 million in cap space left.
Next up are restricted free agents. Ryan Pulock is a player who looked better as the year goes on. It may be time to give one of those deals where you trade RFA time for UFA time. Pulock will be looking at $3.5 $4m per for the next half decade.
$5 million left.
The next question- what is Brock Nelson worth. Yes, Snow will resign him- that's why Nelson was around after the trade deadline. And his 19 goals are on pace with his usual output. $3.5m?
$1.5 million left.
With that money, you will need 2 functional forwards. Ho Sang part 2? Keifer Bellows? Michael Dal Colle? Ross Johnston? All of these guys would be price conscious moves that are forced to be made by bad cap management. And they may not even fit.
In short, retooling the roster will keep the team at the cap ceiling. Oh, theres a catch.
New York Islanders Anders Lee and Jordan Eberle are unrestricted free agents next spring.  Matthew Barzal is up for a new deal the year after.
But who is coming off to replace that money? NOBODY. Because Snow loves giving 5, 6, and 7 year deals. This makes Snow's job easy- he gets 6 years to find a replacement! Time to take another August off!
Didn't you just say give Pulock a 5 year deal? Yup, because he's young, and the Islanders would be saving cap space long term. SAVING CAP SPACE.
If this team could not win with Tavares and Bailey combining to earn $9 million a year, why would you think that they can win more when the same two guys are making $16 million?
And what's worse, by not firing Snow? By letting Snow brag to the rest of the GM's in the league, much to their confusion, that he's keeping his job? Good luck attracting UFA's. The offseason is already screwed because the owners gave Snow time to run his mouth to Newsday when they should have just fired him. And Weight, too.
You know what would have been interesting? The team moving to the monthly announced new Long Island arena in Ronkonkoma. The team owners woulnd't want to- they want the urban audience to draw in resale value. Ronkonkoma can't provide such because it's too suburban, just like the half sold out for next season despite the awful team Nassau Coliseum. And trust me, the new owners HATE that the Coliseum is selling out. They want the 5 boroughs involved when they sell out of this in a few years, just like Ledecky has done in the past when he was an owner of the Washington Capitals.
And the worst part of this lost season is retaining Snow and Weight. Snow has spent 12 years proving that he's not good at his job. Again, 4 of this closing in on 100 draft picks are helping the Islanders. That's a terrible ratio. Did anyone else see how Detroit Red Wing fans went crazy when the team extended Ken Holland? How Mike Babcock, who left the Wings, told the Toronto front office to get bigger so that no one person could wreck a team with either the decisions or choosing to leave? Yet Snow's contract runs for infinity, and he keeps shrinking the scouting staff and executives.
And the result? No accountability in the organization. And no playoffs 67% of the time despite having a superstar center.
Speaking of, the Bridgeport Sound Tigers missed the playoffs for the 5th time in 6 seasons, and hasn't won a round of playoffs in 15 years. Snow has been in charge of Bridgeport for 12 of those years.
The Islanders, despite 5 top 5 draft picks, have never been a favored seed in the playoffs under Snow.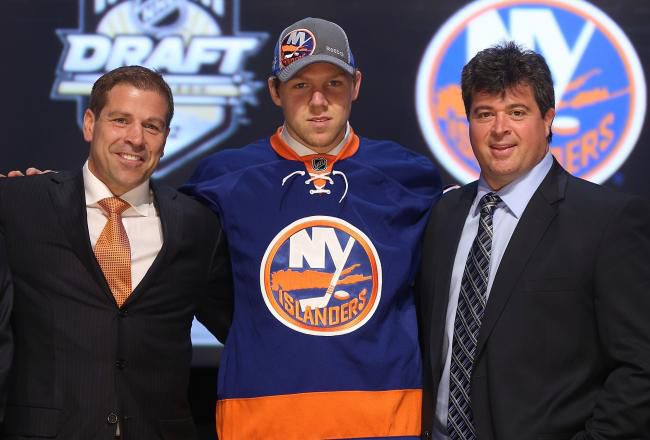 Our saviors!
Snow chose to not make an offer to John Tavares, to not use any leverage in trying to negotiate, and chose to let Tavares decide his own fate even if it screws the team. If I were an owner and asked my GM to get an extension done and he failed? I wouldn't employ him, and it wouldn't take two statements to make it clear.
To wrap this up, if the team starts October with the same roster of players, the same coaching staff, and the same General Manager? There is only one rational assumption you can make- no playoffs. There's two years of proof with the coach, and eight(!) with the GM. It will indeed be more of the same, witnessed in Brooklyn and in Nassau. Cue the music.
With the New York Islanders season over… continue following the NHL through a new form of Fantasy Hockey!
Also Available In the Apple & Google Play Store
Also try… NBA Game Day Previews