An NHL Game Day Preview between the Pittsburgh Penguins VS Philadelphia Flyers – StatementGames alternative Fantasy Hockey, play for FREE and WIN CASH Rewards.
When: 5:30 PM EST, January 13th, 2021
Where: Wells Fargo Center, Philadelphia, PA
TV: NBCSN
Puckline: Penguins +1.5 / -286 | Flyers -1.5 / +225
Moneyline: Penguins +100 / Flyers -118
OVER/UNDER Game Total: 6.5
Pittsburgh Penguins
Record: 0-0
Road Record: 0-0
PL: 0-0
Philadelphia Flyers
Record: 0-0
Road Record: 0-0
PL: 0-0
Pittsburgh Penguins Vs Philadelphia Flyers Game Day Preview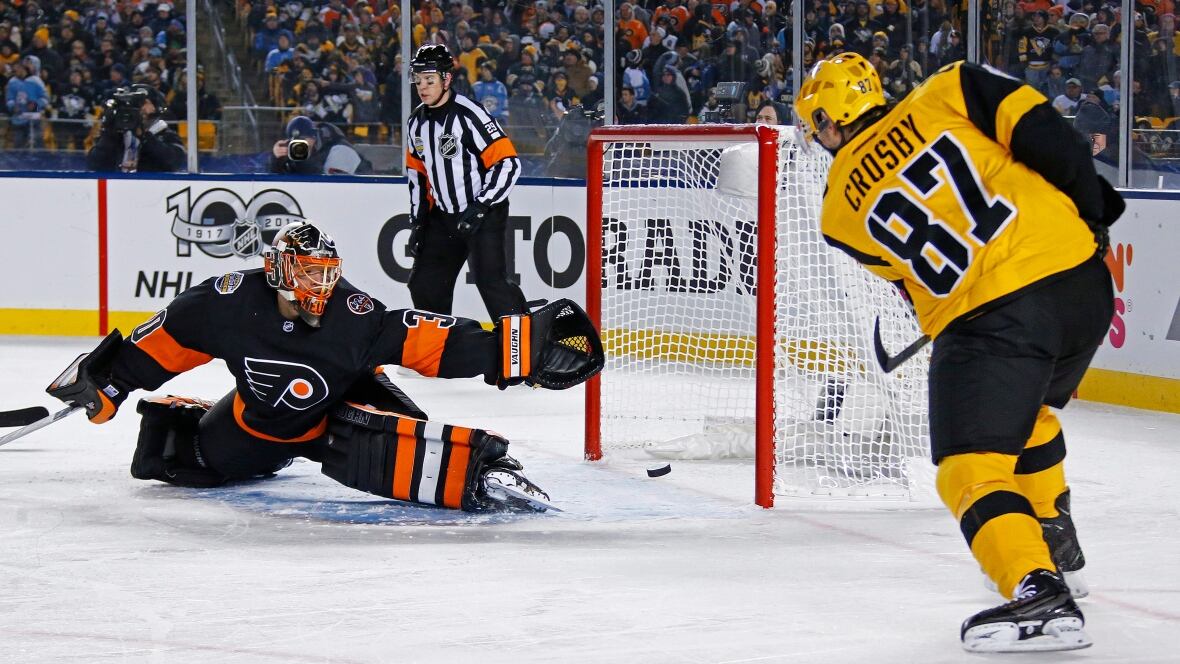 It's a brand new year for the Philadelphia Flyers, and they will open it up with a big game at home against the Pittsburgh Penguins. The Pens seem to be on the decline, and this year should determine whether that claim can be supported by hockey fans around the world.
Pittsburgh Penguins
Top Line=Guentzel-Crosby-Rodrigues
The Pens have had a few great years in the 2010s. But, it seems those glory days are gone. After an embarrassing play-in round exit at the hands of the Montreal Canadiens, they will need all the help they can get from their veteran leaders. Most importantly, they need Sidney Crosby to continue his onslaught of the league during what has been a storied NHL career for Sid the Kid.
The Penguins lost a big piece of their 2017 cup run, and that was Matt Murray. Tristan Jarry started to take the next step. and before he knew it, he was thrust into the starting goalie position. So, Murray left Pittsburgh for Ottawa this offseason. Now, it is Jarry's job to lose at the moment.
Philadelphia Flyers
Top Line=Giroux-Couturier-Voracek
The Flyers are coming off an amazing regular season, where they were able to set themselves up well enough to win the number one seed in the bubble. They dispatched the Canadiens in the first round of the Stanley Cup Playoffs. Then, Philadelphia lost a heartbreaking 7 game series to the New York Islanders in the second round.
Claude Giroux and Jakub Voracek get older by the year, that's a given, but the youngsters have brightened the future for the Flyers. Travis Konecny was the leading point-getter for Philly last year, and Nolan Patrick will make a long-awaited return to the ice after sitting out last season due to migraines. Also, Sean Couturier has been playing incredibly over the past couple years. The Pens will have their hands full trying to slow down the Flyers electric offensive firepower.
Penguins Vs Flyers Facts
Flyers were 8-1 in their last 9 games before the pause.
Penguins were 4-5 in their last 9 games before the pause.
Penguins were 2-3 in their last 5 road games before the pause.
Pittsburgh Penguins Vs Philadelphia Flyers Alternative Fantasy Hockey-Statement Games Picks
Game Pick: Penguins 2 Flyers 4
10 PT Pick: PIT Starter OVER 2.5 Goals Against (Tristan Jarry Projected)
9 PT Pick: Philadelphia Flyers Will WIN By OVER 1.5 Goals
8 PT Pick: Total Goals UNDER 6.5
Also Available In the Apple & Google Play Store