An NFL Gameday Preview between the Philadelphia Eagles Vs Green Bay Packers.
When: 4:25 PM ET, Sunday, December 6th, 2020
Where: Lambeau Field, Green Bay, WI
TV: CBS
Point Spread: Packers -9.5
OVER/UNDER Game Total: 47
Philadelphia Eagles
Record: 3-7-1
Road Record: 1-4
ATS: 4-7
Green Bay Packers
Record: 8-3
Home Record: 4-1
ATS: 7-4
Philadelphia Eagles Vs Green Bay Packers Game Day Preview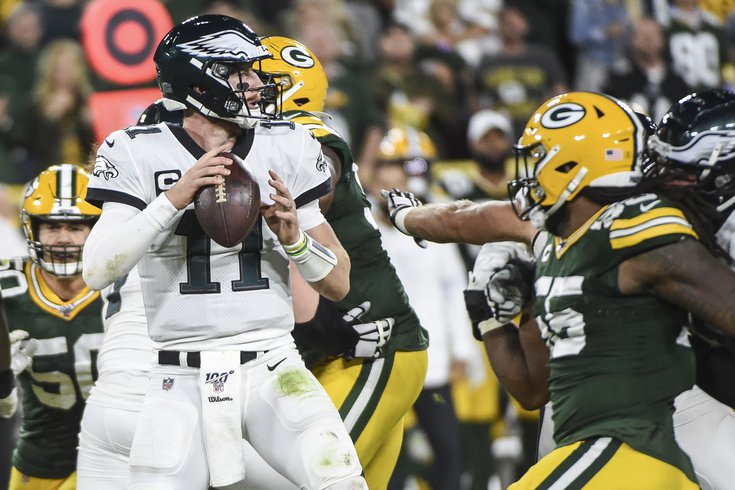 The Eagles and Packers Packers face off for the second straight year from Lambeau Field on Sunday. In week 4 of 2019 the Eagles squeaked out a 34-27 win on Thursday Night Football. Will the Eagles climb back into the NFC East race or will the Packers get revenge?
Philadelphia Eagles
Despite some bad football, the Eagles with just 3 wins are only one game out in the NFC East.
The big Eagles story this week was how team owner Jeffery Lurie decided not to attend the week 11 contest vs the Cleveland Browns. Leading up to the Browns game he was disgusted with the teams effort in practice. There is no time for self pity as the Eagles are just 1 game out of the division. However, if Carson Wentz does not turn things around quickly he just might find himself out of job.
Green Bay Packers
The Packers are the polar opposite of the Eagles this year. They are in the driver's seat in the NFC North and are only one game back of the Saints for the #1 seed in the NFC.
The team is led by Aaron Rodgers. He has had a magnificent season throwing for over 3,000 yards, 33 touchdowns and just 4 interceptions. Running Back Aaron Jones has cooled down a bit after a stifling hot start to the year. He has still accumulated 624 yards on 130 carries and 261 yards receiving with just 33 catches. Speaking of receiving, Davante Adams has been on a tear as of late. In his last 6 games, Adams has accumulated 655 yards from 51 catches. He also has caught 9 touchdown passes in that span. In conclusion, for this game look out for Rodgers, Jones & Adams to attempt to deliver an early knock out blow.
Eagles Vs Packers Facts
Green Bay is 3-4 ATS after a win the prior week.
Philadelphia is 1-4 ATS in away games in 2020.
The Packers are 3-2 ATS in home games in 2020.
Philadelphia Eagles Vs Green Bay Packers Alternative Fantasy Football-StatementGames Picks
Game Picks: Green Bay Packers 31 Philadelphia Eagles 17
10 PT Pick: Aaron Rodgers OVER 290.5 Yards Passing
9 PT Pick: Philadelphia Eagles Tight Ends OVER 64.5 Receiving Yards
8 PT Pick: Aaron Jones over 60.5 Rushing Yards
Also Available In the Apple & Google Play Store