An NFL GameDay Preview between the Philadelphia Eagles and Dallas Cowboys.
When: 4:25, December 27th, 2020
Where: AT&T Stadium, Dallas, TX
TV: FOX
Point Spread: Cowboys +2.5
OVER/UNDER Game Total: 49.5
Philadelphia Eagles
Record: 4-9-1
Road Record: 1-6
ATS: 5-9
Dallas Cowboys
Record: 5-9
Home Record: 3-4
ATS: 4-10
Philadelphia Eagles Vs Dallas Cowboys GameDay Preview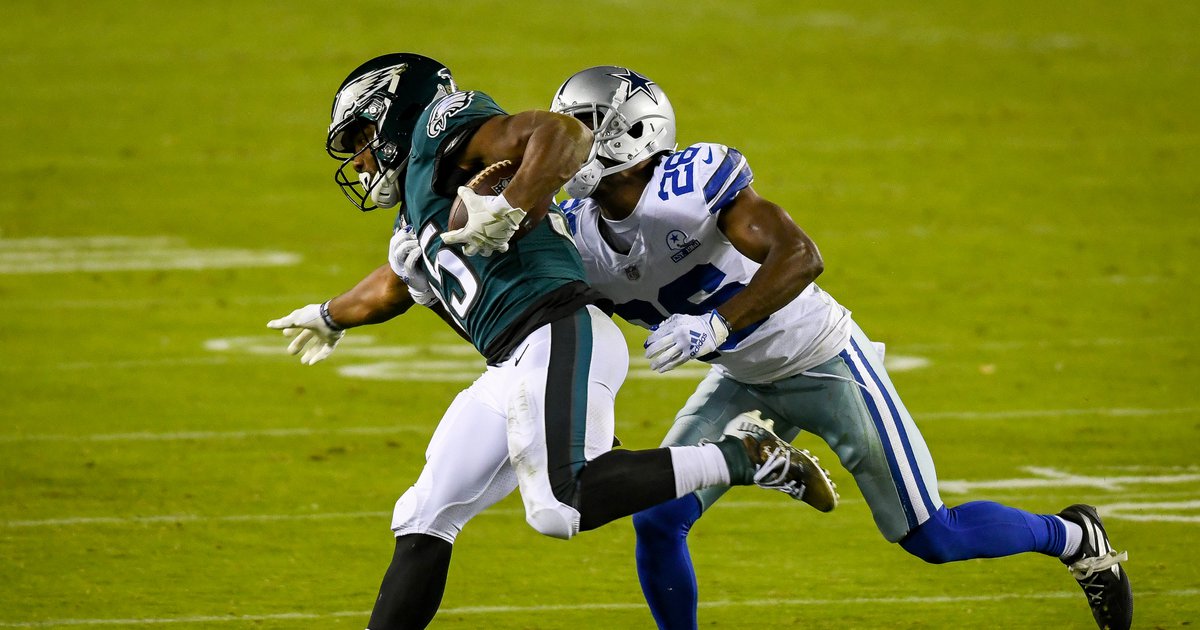 The last time these two teams met, it was arguably the worst game of the season. Both teams were embarrassed by their play, especially the Eagles. Even though they lost, they had gone up against a third string quarterback and the worst defense in the league, and barely got by 23-9. This time, the cast is renewed, at least at the QB position.
Philadelphia Eagles
The Eagles could not be in a worse spot in terms of their chances for the playoffs. Yet, it isn't what is dominating the headlines in the City of Brotherly Love. Instead, the debate is: who will keep the Starting QB job? Wentz or Hurts? Well, for now, it will indeed be the rookie from Oklahoma, Jalen Hurts. He will finish out the season as QB most likely.
Hurts has been impressive, especially in his last game against the Cardinals. Combined, he had over 400 yards of total offense and threw for 3 touchdowns. Not to mention, he showed off his toughness on a big game tying touchdown late in the fourth quarter. Even though they lost, it was a moral victory for not just Jalen Hurts, but the whole Eagles team. But now, they need the defense to keep playing well to maintain their playoff hopes for another week.
Dallas Cowboys
The Cowboys were once the joke of the league. Even the Jets looked better than they did week in and week out. But, lately, the role has been given back to the Jets, as the Cowboys have won two straight, with Tony Pollard stealing the show, and Andy Dalton being consistent with his passes in the pocket.
The Dallas defense however will decide this game. They have been historically bad. But, they seemed to have figured things out. This will be the true test, with a fresh kickstart, electric Eagles offense led by the speedster Jalen Hurts. Demarcus Lawrence will need to live up to his big 'olé contract to give the Boys a chance in this game.
Eagles Vs Cowboys Facts:
The Over is 6-8 this year for the Eagles.
The Eagles are 2-7-1 after a loss this year.
Dallas is 1-3 after a win this season.
Philadelphia Eagles Vs Dallas Cowboys Alternative Fantasy Football-Statement Games Picks
Philadelphia Eagles 23 Dallas Cowboys 16
10 PT Pick: Philadelphia Eagles UNDER 25.5 PTS
9 PT Pick: Dallas Cowboys UNDER 23.5 PTS
8 PT Pic: Total PTS UNDER 49.5
Also Available In the Apple & Google Play Store