An NHL Game Day Preview between the Montreal Canadiens Vs Edmonton Oilers – StatementGames alternative Fantasy Hockey, play for FREE and WIN CASH Rewards.
When: 7:00 PM EST, January 16th, 2021
Where: Rogers Place, Edmonton, AB-Canada
TV: NHLN
Puckline: Canadiens -1.5 / +220 | Oilers +1.5 / -250
Moneyline: Canadiens -110 / Oilers +110
OVER/UNDER Game Total: 6.5
Montreal Canadiens
Record: 0-0-1-0
Road Record: 0-0-1-0
PL: 1-0
Edmonton Oilers
Record: 1-1-0-0
Home Record: 1-1-0-0
PL: 1-1
Montreal Canadiens Vs Edmonton Oilers Game Day Preview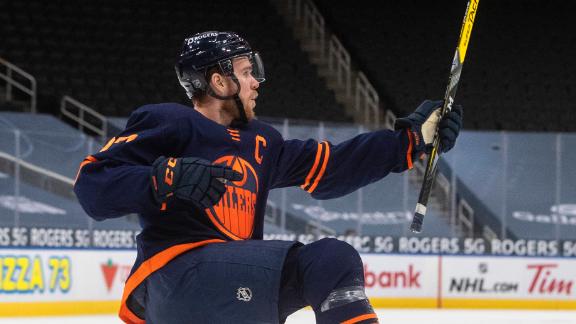 After recording the first hat trick of the NHL season, Connor McDavid leads his Edmonton Oilers into a home and home set against the Montreal Canadiens.
This will be the first time these two teams will meet for the 1st as division foes. As a result of the COVID-19, both teams are carrying card members of the stacked realigned Canada North Division.
Montreal Canadiens
The Canadiens enter into Edmonton off a disappointing 5-4 overtime defeat at Toronto on Wednesday. Tonight's game is Montreal's second of six road games to open the season.
Josh Anderson gave the Canadiens a 4-3 lead just over one minute into the third period, but the offense went silent from there. Anderson, who scored a pair of goals in the opener, was making his Canadiens debut after he was acquired in an October trade with the Columbus Blue Jackets.
Montreal also had a 3-1 lead in the second period before giving up two power-play goals that allowed Toronto to tie the score. They are back on the horse tonight.
Edmonton Oilers
Connor McDavid's hat trick on Thursday was his 7th regular-season hat trick of his carrer. His team stormed out to a 5-2 victory over the Canucks, after losing at home to Vancouver 5-3 in Wednesday's season opener.
"It was obviously not our best effort (Wednesday), and I thought our group was really solid (Thursday)," McDavid said. "We came out with a lot of energy, it seemed like we had a just a little more juice than they did, but that happens in a back-to-back. Our power play was good, our (penalty kill) was good, and five-on-five, I thought we did a pretty good job as well."
Canadiens Vs Oilers Facts
Canadiens are 1-5 in the last 6 meetings in Edmonton.
Over is 7-3-1 in the last 11 MTL Vs EDM meetings.
Home team is 4-1 in the last 5 MTL Vs EDM meetings.
Montreal Canadiens Vs Edmonton Oilers Alternative Fantasy Hockey-Statement Games Picks
Canadiens 3 Oilers 4
10 PT Pick: Brendan Gallagher + Phillip Danault UNDER 1.5 Combined PTS
9 PT Pick: Edmonton Oiler Forwards OVER 2.5 Goals
8 PT Pick: Conor McDavid + Leon Draisaitl OVER 1.5 Combined PTS
Also Available In the Apple & Google Play Store