November 6, 2019
By StatementGames Team
Detroit Red Wings Vs New York Rangers Overview & Trends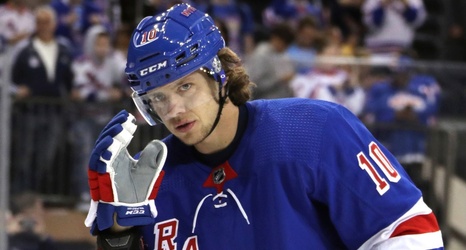 When: 8:00 PM ET, Wednesday, November 6, 2019
Where: Madison Square Garden, New York, New York
TV: NBCSN
Spread:  Detroit Red Wings +130 / New York Rangers -150
Puck Line: Detroit Red Wings / +1.5 / -180 | New York Rangers -1.5 / +160
OVER / UNDER Game Total: 6.5
Detroit Red Wings  
Record: 4-11-1-0
Road Record: 2-6-0-0
Puck Line: 6-10
New York Rangers
Record: 5-6-1-0
Home Record: 3-4-1-0
Puck Line: 6-6
Detroit Red Wings Vs New York Rangers Game Day Preview
Red Wings
Detroit got on the board early before things unraveled in their blowout defeat to Nashville in their last contest. The Red Wings have scored two goals or less in 10 of their 16 games this season. Detroit is 31st in the league in goals for as they average 2.13 goals per contest on the year. The Red Wings are 29th in goals against by allowing 3.80 goals per game. Detroit is only 26th in the league on the power play as they convert only 13.2 percent of their chances with the man advantage. The Red Wings are 29th in the league in penalty killing as they successfully kill off only 68.6 percent of their shorthanded situations.
The Red Wings started off okay at home against the Predators before things unraveled after that. Detroit owned a 7-5 edge in shots in the opening period and went to the dressing room with a 1-0 advantage on the scoreboard.  Andreas Athanasiou scored his first of the season off assists from Filip Hronek and Valtteri Filppula at 2:35 of the opening period. Things went downhill from that point for the Red Wings. In the second period, the Red Wings were outshot 15-10 and outscored 5-0 to trail 5-1 after two periods of play. The third period saw Detroit with a 9-4 advantage in shots on goal but they gave up the lone marker of the stanza. Jimmy Howard got the start but was pulled after stopping 11 of 15 shots. Jonathan Bernier kicked out nine of 11 in relief in the contest: Bernier is expected to get the start in net in this contest.
NY Rangers
New York is still struggling to find their consistency as they went into Monday winners of four of their previous five games. Instead, the Rangers laid a dud on the ice against the Senators and took a drubbing. New York is 15th in the league with 3.08 goals per contest. The Rangers are tied for 24th in goals against as they allow 3.50 goals per game. New York is 20th in the league in power play percentage as they convert 17.8 percent of their chances with the man advantage. The Rangers are 20th in penalty killing as they successfully navigate 79.6 percent of their shorthanded situations.
The Rangers started off okay but things went sideways after that: they were unable to bounce back and ended up getting hammered. New York was outshot 14-11 in the opening period of the game and trailed 2-1 after 20 minutes of play. Kaapo Kakko scored his third of the year at 8:47 off assists from Adam Fox and Brendan Lemieux to open the scoring. The Rangers then gave up two unanswered goals in the stanza to go down a goal. The second period saw New York with a 12-10 edge in shots on goal but they were outscored 3-1 to go down 5-2 after 40 minutes. After giving up three goals to trail 5-1, Artemi Panarin scored his sixth of the year, on the power play, at 17:34 off assists from Kakko and Tony DeAngelo. In the final period, the Rangers held an 11-6 edge in shots but gave up the lone goal of the period. Alexandar Georgiev made 24 saves for New York in the loss: the Rangers held a 34-30 edge in shots on goal. Henrik Lundqvist is expected to be in goal for this contest.
Source – Winners & Whiners
Detroit Red Wings Vs New York Rangers Picks
StatementGames Inc. offers a new twist on Fantasy Hockey.  Free To Play and over 10K in Ca$h gift cards waiting to be claimed.  Video below gives a full overview of how to play.  Try DETVsNYR game and comment below with your StatementGames username, top 10 pick and reason for your pick.  Complete these steps and should you go 10 For 10 with your picks – we will send you an authentic Detroit Red Wings Or New York Rangers Jersey of your choice.
Game Pick Detroit Red Wings 2 New York Rangers 4
10 PT Pick = New York Rangers OVER 29.5 Shots
9 PT Pick = New York Ranger Forwards OVER 2.5 Goals
8 PT Pick = Dylan Larkin + Valtteri Filppula + Andreas Athanasiou  UNDER 0.5 Goals
Also Available In the Apple & Google Play Store
(Search – StatementGames Fantasy Sports)